In Brief: Jose Garces, Iron Chef, Author and Restauranteur. 10 Q Interview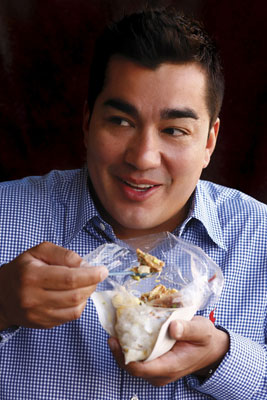 You grew up in Chicago, what was on the table at a Garces' fa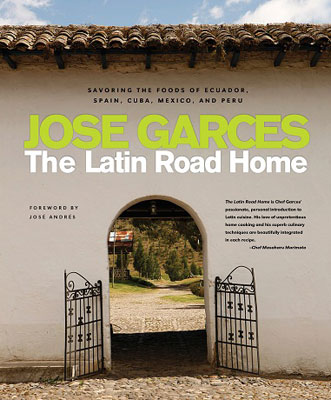 mily dinner?
"My family relied on a lot of Latin staples: arroz con pollo, arepas, empanadas, ropa vieja and fritada. My mother is an accomplished cook, and her meals were always hearty and very complete, with a protein, a starch and vegetables that ranged from things I loved (sweet roasted peppers) to things that frightened me (the vivid green of an avocado is not the most comforting thing to a kid…!)"
You beat Bobby Flay in melons to become an Iron Chef, did that victory change anything for you?
"I took on Bobby Flay as a challenger, and that experience led to me being cast on The Next Iron Chef, but it was several more battles before I was actually named the winner and became an Iron Chef myself. I would say that Battle: Melon was a defining moment for me because it was my first time in Kitchen Stadium, and I think I showed the judges – and Iron Chef Flay – that I was ready and able to compete on that level."
Did the Food Network lawyers tell you what it meant to be named an Iron Chef? If so, what does it mean?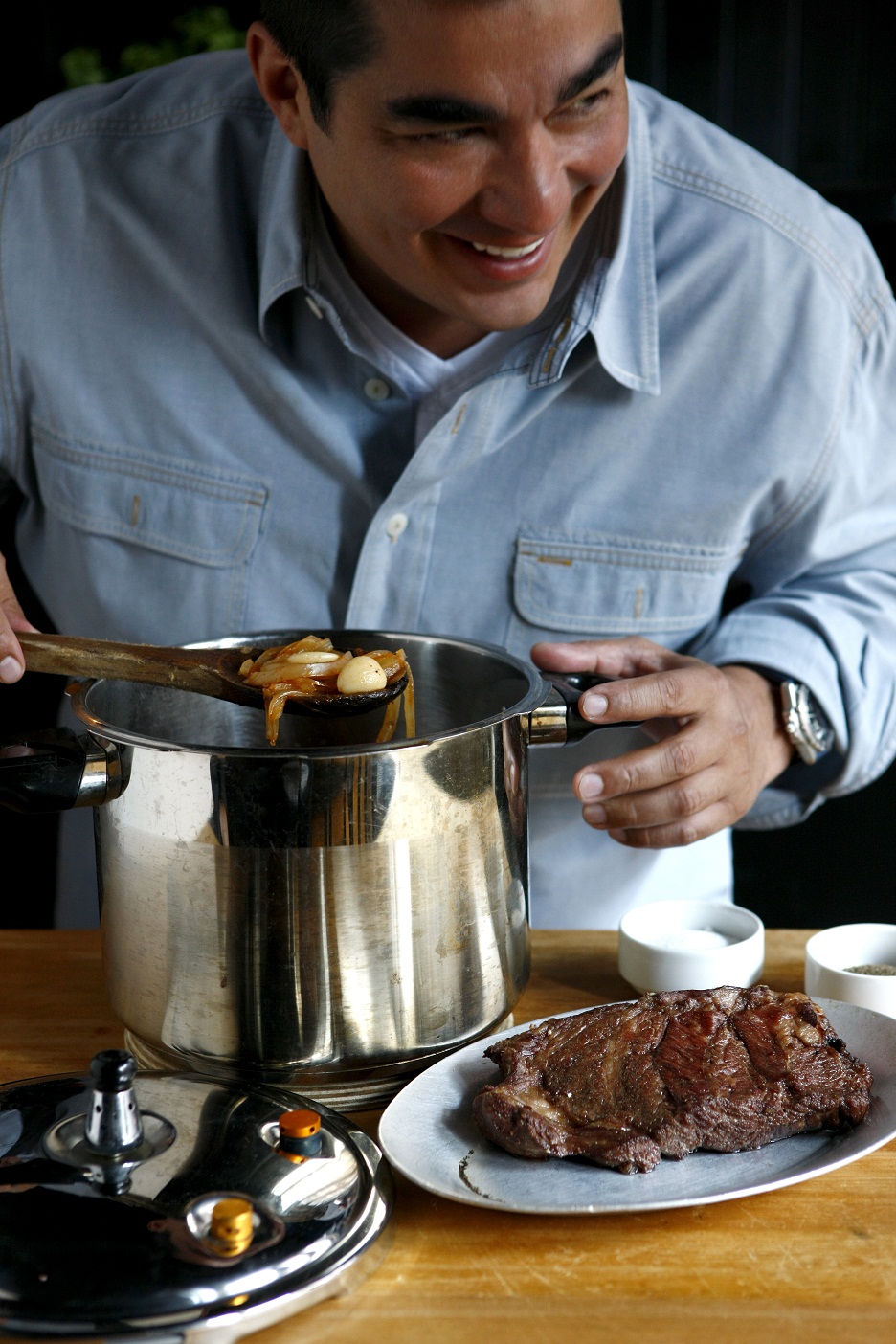 "Ha, ha. The first question people want to know is how it works behind the scenes at a taping of Iron Chef America. If I reveal anything, my Food Network contract states that I will have to pay $1 million dollars to the Food Network. That's about all their lawyers ever needed to tell me!"
Tell us a little bit about Luna Farm.
"Luna Farm is a 40-acre retreat in Bucks County, PA for my family and me. It's reclaimed farmland, and my farm manager, Alex McCracken, and I have worked together to develop it into a working farm, reseeding fields, sowing indigenous edibles, even building a 'foraging trail' that I can wander for inspiration. It's also a place of leisure and fun for my family and I, especially the kids, who love the freedom to explore and 'run wild' throughout the property." (Click here for photos of Luna Farm)
Does Luna Farm raise heritage animal breeds and crops?
"At the moment, Luna Farm is home to a few chickens, but is primarily agricultural, focusing on plants, vegetables, fruits, nuts and mushrooms. We also raise honeybees, both for their assistance in pollination and as a means of perpetuating an endangered local species."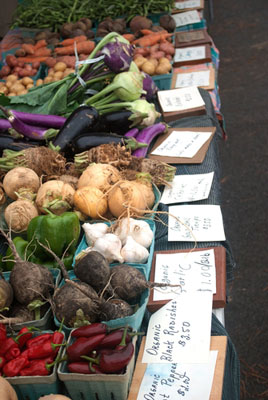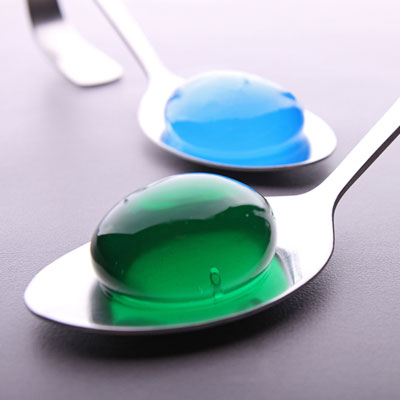 Where do you see yourself, as far as culinary philosophy is concerned, between the polar opposites of the farm-to-table movement and the emerging trend of molecular gastronomy?
"I don't think that farm-to-table and molecular gastronomy are necessarily mutually exclusive. Farm-to-table relies on fresh, local ingredients, while molecular gastronomy brings fresh techniques to ingredients. I've long been a proponent of using the finest 'building blocks' to create a meal, and to me, those building blocks include both what you cook and how you cook it. So it's fair to say that I don't rule out tenets of both styles of cooking, and I think that my work as a whole is richer for it."
You own 15 restaurants that are in Philadelphia, Atlantic City, Chicago, Palm Springs and Scottsdale. What advice would you give aspiring chefs about starting their own restaurant?
"Work like a dog, be fearless, learn from the best and forget about sleeping for at least the first few months."
Are there any potential legal issues that you think about now when you open a restaurant that you may not have considered when you were starting out?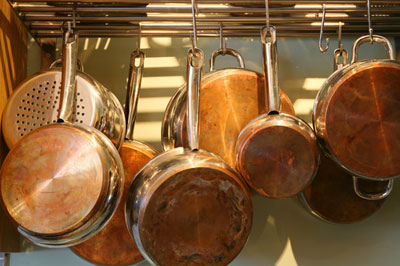 "Yes, possibly one of the most important things a new restaurateur should do is to have a good lawyer, with a good business sense as his or her advocate throughout the process. There are legal issues throughout the process from negotiating the lease to securing the liquor license that a good lawyer will handle effortlessly."
Is there a reason that Philadelphia has seen such an upsurge in restaurateurs choosing to start in the city?
"Philadelphia is a world-class food city. We're home to talented chefs, surrounded by exceptional local ingredients and peopled with adventurous, thoughtful eaters who are generous with their praise and honest with their criticism. It's difficult to imagine why a restaurateur or chef would choose not to open a restaurant here."
Can you pick one of your recipes for our readers and tell us why you made that choice?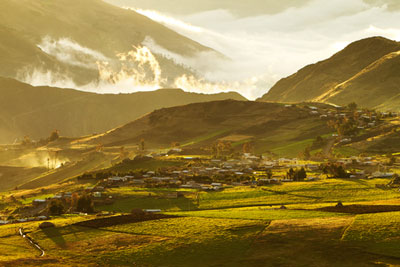 "Cream de quinoa" – The first time I took my wife (Beatriz) and kids (Olivia and Andres) to Ecuador, the four of us spent several days at Hacienda Zuleta. High in the Andes amid fertile valleys, evergreen slopes, and volcanic peaks, it's an amazing place. We stayed in the original hacienda building that dates back to the 1690s and enjoyed meals prepared by Ecuadorian cooks using ingredients produced on its working farm. Zuleta's crema de quinoawas like Ecuador in a bowl, and, looking around the table at my wife and children, all hunkering down over their bowls, I couldn't help but smile. I really cherish that moment and this recipe because of it.
Jose Garces and The Latin Road Home photos by Jason Varney
Recipes:
Crema de Quinoa de Zuleta(Quinoa Chowder with Sweet Corn)
Fresh corn is always the best choice, but may not be in season when you find yourself most in need of this kind of creamy, comforting sustenance—so frozen corn is fine in a pinch.
Serves 4
Ingredients:
2 cups vegetable oil, for frying
1 small russet potato, peeled and cut into matchsticks
Kosher salt
2 Tbsp unsalted butter
1 Tbsp extra virgin olive oil
1/2 Spanish onion, finely chopped
2 Tbsp minced garlic (4 to 6 cloves)
1 Tbsp achiote paste
1 1/2 cups quinoa (any color)
Kernels cut from 2 ears fresh white sweet corn or 1 cup thawed & drained frozen white corn kernels
5 cups Vegetable Stock
1 cup heavy cream
2 Tbsp minced fresh flat-leaf parsley
2 Tbsp minced fresh chives or
cut into 1 1/2-inch strips
1/4 lb smoked bacon, cut into strips,
cooked until crisp, and drained
Sliced avocado, for serving
Ají Costeño (page 33), for serving
Process:
Line a baking sheet with parchment paper. Heat the vegetable oil to 375°F in a Dutch oven over medium heat, using a candy or deep-fry thermometer to monitor the temperature. Fry the potatoes in batches, turning in the oil until golden brown and very crispy on all sides, 1 to 2 minutes per batch. Use a slotted spoon to transfer the fried potatoes to the baking sheet to drain and cool. Season to taste with salt. Heat the butter and olive oil in a stockpot over medium heat. Cook the onion and garlic, stirring occasionally, until translucent, about 10 minutes. Stir in the achiote paste and cook for another 5 minutes. Stir in the quinoa and corn and cook, stirring often, until the grain is lightly toasted, about 5 minutes. Add the stock and cream and bring to a boil. Decrease the heat to medium-low and simmer the chowder uncovered until the quinoa is very tender and the liquid is reduced by one-quarter, about 45 minutes. To serve, fold in the parsley, chives, bacon, and fried potatoes. Season to taste with salt. Garnish with avocado and serve ajíon the side.
Ají Costeño (Ecuadorian Hot Sauce)
Here is a recipe for a spicy red ají in the light style of those typically made on the coast (la costeña). To turn up the heat, use the whole red Fresno chile. Note that it's important to chop the vegetables finely even though they're going into a food processor; otherwise your sauce will be too watery. Store it in a sealed container in the refrigerator, and it will keep for weeks. Makes 1 cup
Ingredients:
1/2 red Fresno chile, seeds and ribs removed,
finely diced
1/2 plum tomato, finely diced
1/4 Spanish onion, finely diced
2 scallions (white and green parts),
finely chopped
2 Tbsp minced fresh flat-leaf parsley
2 Tbsp minced fresh cilantro
2 Tbsp distilled white vinegar
2 Tbsp freshly squeezed lime juice
1 Tbsp extra virgin olive oil
1/2 tsp agave nectar
Kosher salt
Process:
Combine all the ingredients in a bowl except for the salt and mix well. Remove half of the vegetables and set aside in a separate bowl. Pulse the remaining half in a food processor only until the vegetables are finely chopped; it should not be a smooth sauce. Fold in the reserved vegetables. Season the sauce to taste with salt. Chill before using.